ST. PATRICK CATHOLIC CEMETERY
Maple Grove Township, Manitowoc Co., Wisconsin
Location:Cemetery on westside of road, at the junction of County GG and G, at Maple Grove.
Copied by Hilary & Ruth Vanderbloemen, Alloy Mc Cully, Marcie Baer,
Rose Lubeck and Virginia Posny, MCOCS, on July 8 and August 5, 1979.
Typed and proofread by Hilary J. Vanderbloemen. Some parts of cemetery
neglected with stones piled in gully and brush.
No attempt was made to move or copy these stones. Earliest remaining stone 1855
. Tombstone photos taken in 2008 by a volunteer
Reindexed by the Manitowoc Genealogy Society May of 2007,
added to this site Oct. 2010.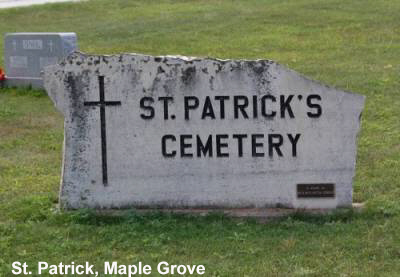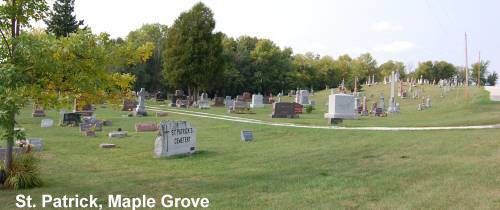 OSSW = ON SAME STONE WITH
SSDI = SOCIAL SECURITY DEATH INDEX
---