EMILY (LEVERENZ) WEBER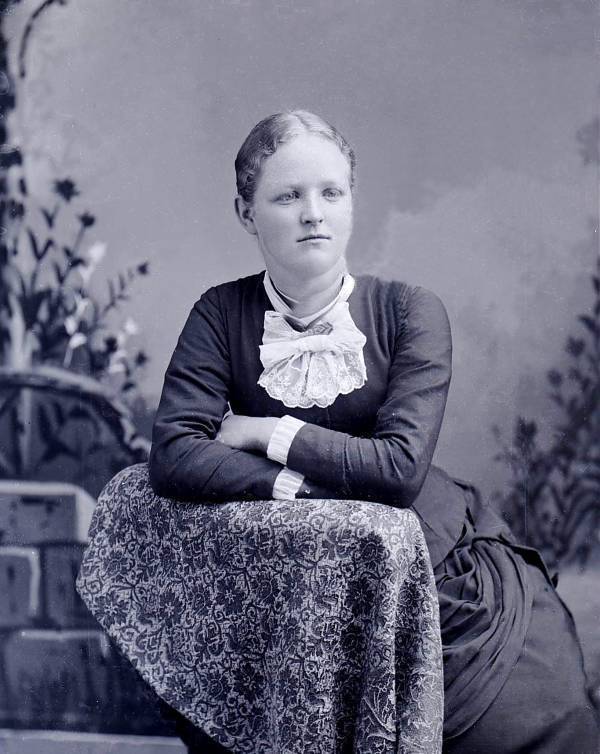 Emily (Leverenz) Weber

From Calumet county marriage records (v.3 p.88) 
Gustav Weber
b: Town of New Holstein –farmer
p: Christav Weber and Margaret Pickel
m: April 10, 1890 in religious ceremony, Calumet County
     Witnesses Louis Weber and Emma C. Leverenz
to: Emily Leverenz
b: Town of Charlestown, Calumet County
p: Joachim Levering and Wilhelmina Bastian
**********
From Calumet county death records (v.12 p.504)
Gustav Weber 
Oct. 31, 1864-March 4, 1950
Son of Christopher Weber and Margaret Pickel
Born Town of New Holstein –farmer 
Died from "uremic poisoning, 1 week –benign enlargement of prostate 
  –arteriosclerosis –hypertrophy of prostate gland"
Buried at Pilgrim's Rest Cemetery, Town of Schleswig, Manitowoc County (#80)
**********
Gustave Weber, 85, retired farmer, passed away at 11:45 a.m. 
Saturday at his home in New Holstein.  He had been in ill 
health for the past three and one-half months.  He was born 
in the town of New Holstein October 31, 1864, a son of the 
late Christopher and Margaret Weber.  He attended the Lowell 
school in that township.  On April 10, 1890, he was married 
to the former Miss Emily Leverenz in the town of Charlestown.  
The couple lived on a farm until 25 years ago when they moved 
to the city of New Holstein.  
Survivors include his wife; two daughters, Miss Elsie of 
Milwaukee and Miss Viola of Appleton; two sons, Clifford and 
Arthur of New Holstein; seven grandchildren and two great-
grandchildren.  Five brothers and five sisters preceded him 
in death.  
Funeral services will be held Tuesday at the Bethel Methodist 
Church, Meggers.  Seminar Robert Marquardt of Mission house 
will officiate and burial will be made in Pilgrim's Rest 
Cemetery, town of Schleswig.  
March 4, 1950
**********
Mrs. Gus Weber, 96, a lifelong resident of the New Holstein area until 
she went to live with her daughters in Appleton, died Thursday evening 
in Appleton. The former Emily Leverenz, she was born in the Town of 
Charlestown Oct. 21, 1865, the daughter of Mr. and Mrs. Joachim Leverenz, 
and was married to Gus Weber at Charlestown April 10, 1890. Mr. Weber 
died several years ago. She had been living with her daughters for the 
past eight years.  
She was a member of the Bethel Methodist Church of Meggers and the 
Women's Society of Christian Service.   
Surviving are two sons, Clifford and Arthur, both of New Holstein; two 
daughters, Miss Elsie and Miss Viola Leverenz, both of Appleton, seven 
grandchildren and 19 great grandchildren. Four brothers and three 
sisters preceded her in death.
Funeral services will be held at Bethel Methodist Church with the Rev. 
Newton Barrett, pastor, officiating. Burial will be in Pilgrim Rest 
Cemetery, Meggers.
The Sheboygan Press, May 25, 1962
**********
The parents of the various Leverenz people in the photos were Jochim Leverenz 
and his wife Wilhemina Bastian.
Jochim Laverenz was born May 20, 1835 in Mechlenburg, Germany. In December of 
1854, Jochim (along with his mother and three sisters) land in New York. They 
first lived several years in New York State.  They then moved to Illinois for 
two years.  In 1859, Jochim purchased a farm in Charlestown, Calumet County.  
On Feb. 2, 1862, he married Wilhemina Bastian.  Wilhemina was born on Feb. 9, 
1840 in Suckow, Michlenburg, Germany.
In 1864, Joachim enlisted in the 17th Wisconsin Infantry Regiment and remained 
until his discharge in July of 1865.  His daughter, Emily (who married Gustav 
Weber -with both of them in the photos) was born soon after Joachim's return 
from the war.  She was born Oct. 21, 1866.